Creations ENlivened: Metal
at london craft week 2022
Organized by Crafts on Peel and co-sponsored by the Hong Kong Economic and Trade Office (London).
Creations Enlivened: Metal showcases the works by traditional craftsmen and contemporary artisans from Hong Kong, working across a myriad of metals, such as copper, brass, silver, tin and galvanized iron. 
The exhibition reveals the rich history of metalwork, and contemporary adaptations of those traditional techniques responding to the demand of modern days, while contemporary artisans strive to convey our culture and traditions through the elegance, strength and durability of their metal creations.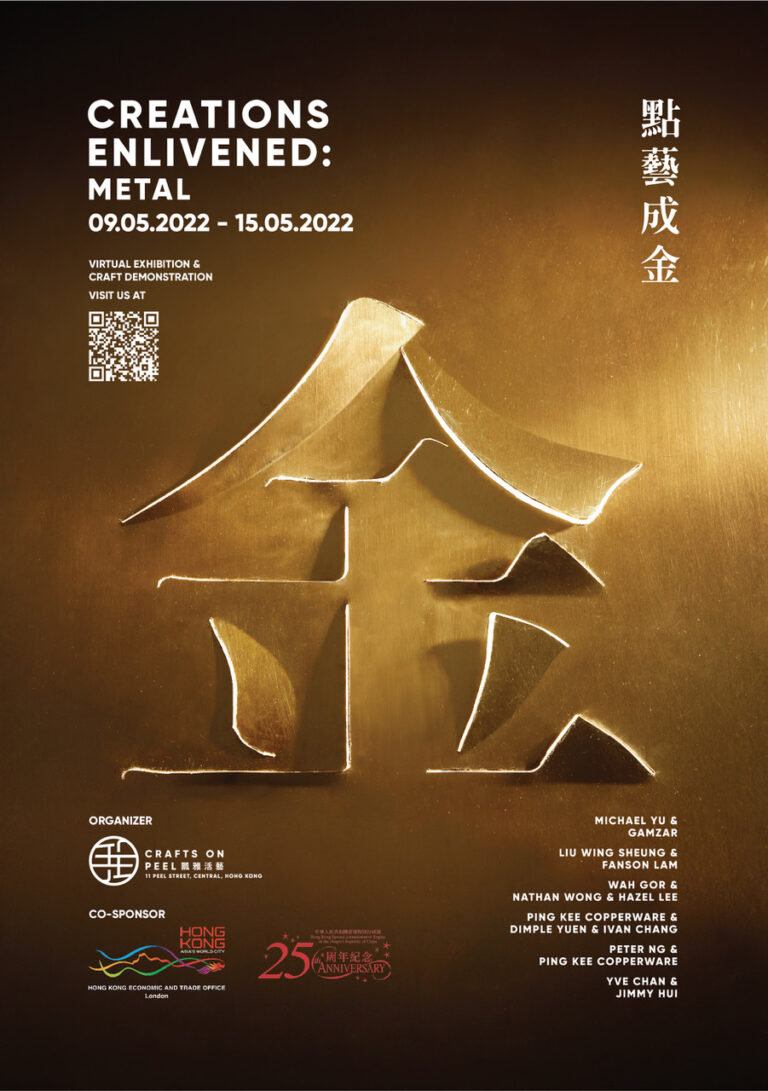 REGISTRATION FOR VIRTUAL DEMONSTRATION​
We are proud to present two virtual craft demonstrations featuring artisans specializing in different domains of metalwork. Through the coming sessions, you will not only learn more about the stories and techniques behind the featured artworks, but also the rich and dazzling cultural background of craftsmanship in Hong Kong.
Revisit our Virtual Crafts Demonstrations now!
Four Seasons: Enchantment Engraved
The technique hammer and chisel engraving has a long and rich history, which represents the once-thriving jewellery industry in Hong Kong. With Master Ng's comprehensive demonstration and sharing, audience could know more about the unique history of Hong Kong's metalwork and also the story behind his work "Four Seasons" in collaboration with Ping Kee Copperware.
Date: May 10, 2022 (Tue)
Time: 7pm-8pm (HKT); 12pm-1pm (London Time)
Artisan: Master Peter Ng
Venue: Zoom
Craft-ligraphy: Strokes and Cuts
The work "Craft-ligraphy" is a delicate integration of contemporary mindset and traditional craft, combining calligraphy, digital scanning and handmade metalwork. During this demonstration, contemporary artisans Nathan Wong and Hazel Lee will show how they reinterpreted the calligraphy work by Wah Gor in the form of sharp and unique cuts on brass using the hand-cutting technique with fret saws.
Date: May 12, 2022 (Thur)
Time: 7pm-8pm (HKT); 12pm-1pm (London Time)
Artisan: Nathan Wong and Hazel Lee
Venue: Zoom